Eighteen grassroots organizers and professionals – the majority of them identifying as trans or gender non-conforming – joined together over the weekend of December 2-4 to workshop their own trainings on trans issues. The gathering of Southern LGBTQ activists, which came to be known as  "Train the Trainer", was hosted by the GenderBenders in collaboration with Campaign for Southern Equality's Hometown Organizing Project and took place in Piedmont, South Carolina.
Many of the individuals in attendance at the Train the Trainer event present workshops and trainings for a variety of audiences, to educate their communities about issues impacting the trans community and to advocate for safer spaces for trans and LGBTQ folks. More often than not, they are asked to do these trainings for little or no pay.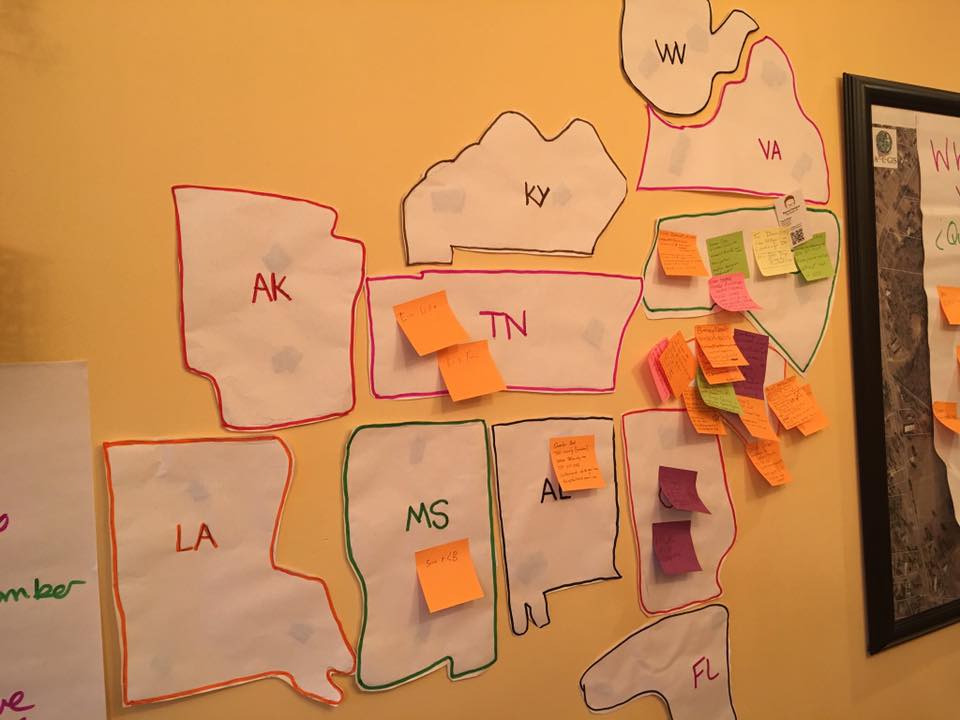 "For far too long there has been a spirit of competitiveness among non-profit organizations and leaders driven by the belief that there aren't enough resources for us to be able to help each other. In reality we can't afford not to help each other. The need for trans and queer educators is vast, and each of us deserves compensation for our work," said Ivy Gibson-Hill, the director of GenderBenders in Upstate, SC and the LGBT Rights Toolkit Coordinator with the Campaign for Southern Equality.
The second half of the weekend focused on revenue-building for trans and queer educators and trainers. Participants engaged in a role play to practice their negotiating skills, and shared their experiences with being at the negotiating table. Questions discussed included: "How much do you ask for?," "How do you market yourself?," "How do you format a proposal?"
After the revenue-building workshop, one of the participants explained that she didn't know she could have been compensated for the education work she was doing at nearby universities and other institutions, and that now that she knows, she will always advocate to be paid – a difference that will have a huge impact on her ability to do the work she is doing in her community, which she funds out-of-pocket.
Our biggest accomplishment? This weekend was a place of affirmation, of healing and empowerment – where the leaders present could acknowledge the power and value of their lived experience and skill acquired along the long road of advocacy.
The list of participants included folks from five Southern states:
Luce Beagle – Empowered Transitions Counseling, Asheville, NC

Quentin Bell – The Knights and Orchids Society, Selma, AL

Diana Coe –  Winston-Salem, NC

Jax Davis – Transgender Assistance Program of Virginia (TAPV), Virginia Beach, VA

Roth Doyle – Queer Oriented Radical Days of Summer (QORDS), Asheville, NC

Tee Dubose – Queer Oriented Radical Days of Summer (QORDS), Greensboro, NC

Suzy Geronimo – Fuerza y Union Multiple (FUM), Henderson, NC

Ivy Gibson-Hill – GenderBenders/Campaign for Southern Equality, Greenville, SC

LI Hooper – Reconciling Ministries Network and GRASP, Winston-Salem, NC

Kian McCallum – GenderBenders, Travelers Rest, SC

Melissa Moore – Trans Love Fund/We Are Family, Charleston, SC

Britney Nesbit – Campaign for Southern Equality, Asheville, NC

Oliver Novinger – GenderBenders, Spartanburg, SC

Fletcher Page – GenderBenders/Campaign for Southern Equality, Greenville, SC

Alex Pelletier – Tri-County GenderBenders, Starr, SC

Paula Gould – Tri-County GenderBenders, Starr, SC

Estrella Sanchez – Trans Latina Coalition, Atlanta, GA

Wynston Sanders – GenderBenders, Spartanburg, SC

Chloe Stuber – Campaign for Southern Equality, Charleston, SC

Aerin Zimmermann – Trans Love Fund/We Are Family, Charleston, SC
This post is also available in: Spanish